What is the best aluminium sliding door for your patio?
Choosing the best aluminium sliding door for your patio or home can depend on a number of factors. But if you're looking for a sliding door that can reach lofty heights and bring a true sense of light and space to your home, you won't find better than the Solarlux Cero.
But the Cero isn't just amazing because of its height, maximum transparency and the panoramic views this affords. Manufactured in Germany to a level of luxury and refinement, this premium customised sliding door perfectly combines cutting-edge technology and stunning design.
The Cero is also a pleasure to use, with a quality you can literally feel. And, with a range of other features that set it apart from other aluminium patio doors, it's rightly earned a place among the elite.
Here we take a look at the Solarlux Cero and all the things that we think make it the best aluminium sliding door for your patio.
Super-size sliding door
The Cero is a real statement sliding door, with a design that's unique to Solarlux. Each glass panel is capable of reaching six metres high and four metres wide, with a total area of 15 square metres, and yet the Cero manages to project elegance and beauty.
Even if you don't need to go to these extremes, the fact that the Cero is capable of reaching them demonstrates just how special this door is.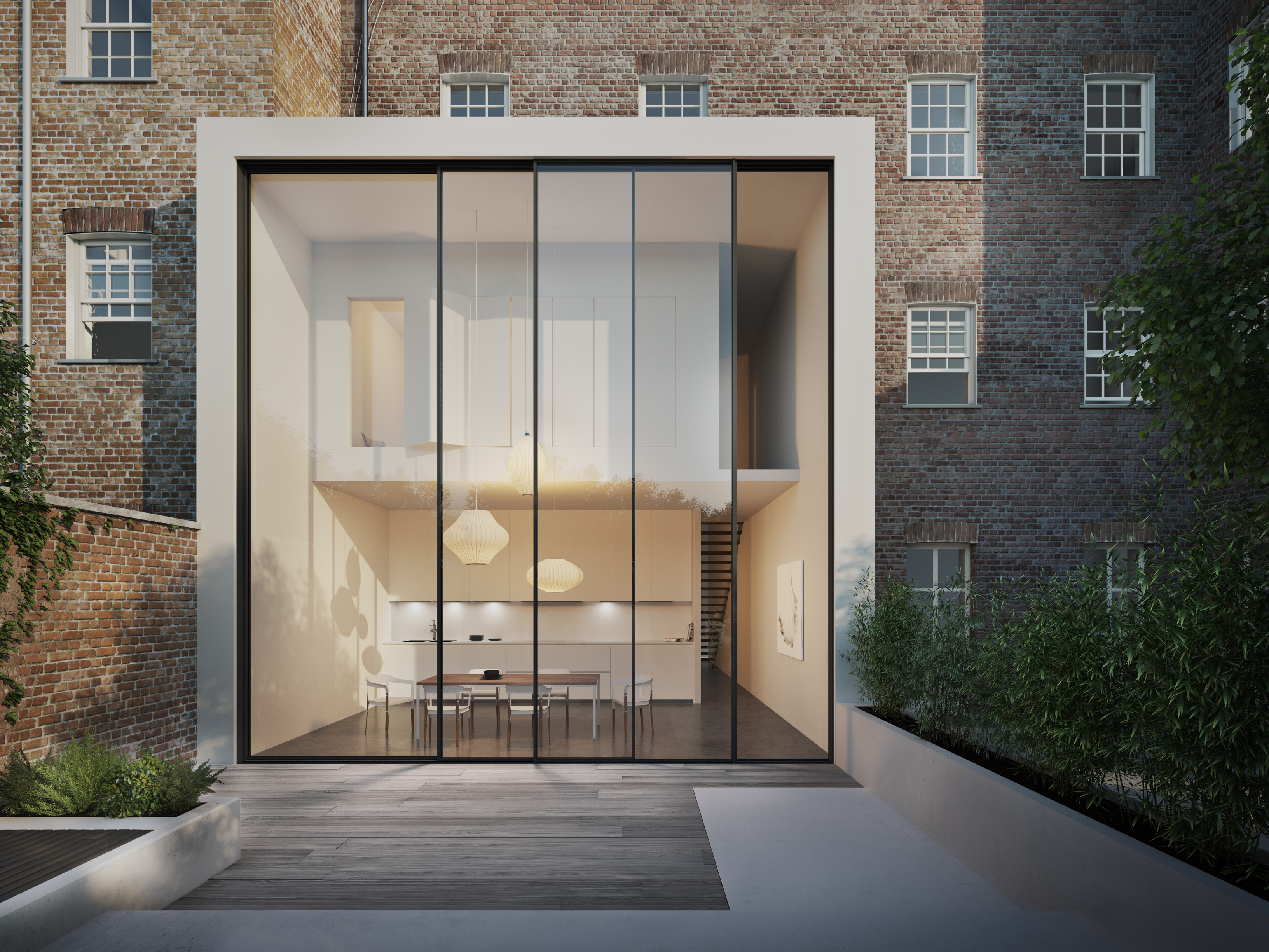 Blurring the lines
With a slender frame, slim profiles and sightlines of 34mm, the Cero sliding door allows for 98% glass coverage, flooding your home with natural light and maximising views of the outside.
Opening up the space inside and out, the cero seamlessly blurs the boundary between the interior and exterior of your property, creating a feeling of freedom, harmony and wellbeing.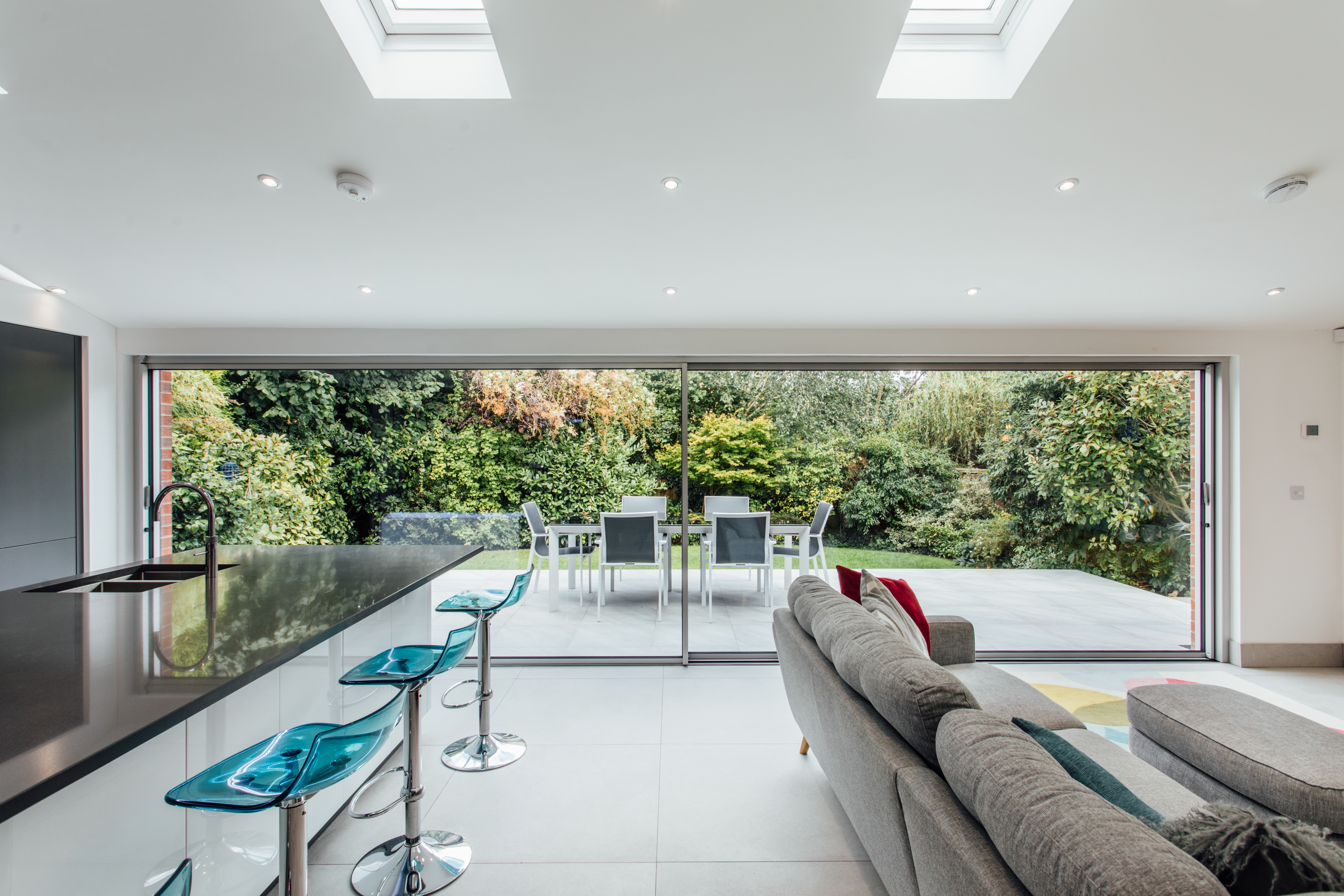 Pinnacle of performance
Solarlux is well-known for its use of top quality materials, technical excellence and innovation in engineering, and all its products reflect this. Amazingly, even though the Cero's glass panes are huge and can weigh up to 1,000kg (a metric tonne), it can be moved by hand up to 400kg. It really does make you smile every time you use it!
It has a smooth gliding action and quiet movement, along with integrated and protected door rollers which are self-lubricating and help maintain movement when sliding.
When a door this big glides as smoothly and quietly as the Cero does, you know there's some serious engineering going on!
Sleek and stylish
For architectural designs that require a creative approach or something really jaw-dropping, the Cero is hard to beat. This slimline aluminium sliding door has minimal sightlines and sleek frames that fit perfectly with a minimalist aesthetic and contemporary design. Combined with its expansive areas of glass, the Cero gives the impression of modesty and simplicity.
Strength and durability
Despite its slimline appearance, the Cero is made from strong and durable aluminium that will last a lifetime.  As a material, aluminium is pretty much maintenance-free, and is strong enough to enable slender frames to be used.
Solarlux uses aluminium that is recycled in an environmentally conscious manner. All its systems come in any colour as well as special surface finishes to help make your project unique. They even offer coatings to combat particular climate requirements in, for example, homes by the sea.
Safety first
Solarlux uses its technological expertise to ensure the Cero sliding door is as safe as possible. The toughened panes of glass may be large but they are extremely secure, safe and easy to move.
The Cero has an optional motorised sliding system with a laser scanner that halts movement of the panels when a person or object is detected.
Another benefit is the option of multiple keeps along the head and track of the door set. As a result, it's possible to move the door to an open position and secure it. This open-secure feature is generally not available on inline sliding doors.
It's in the detail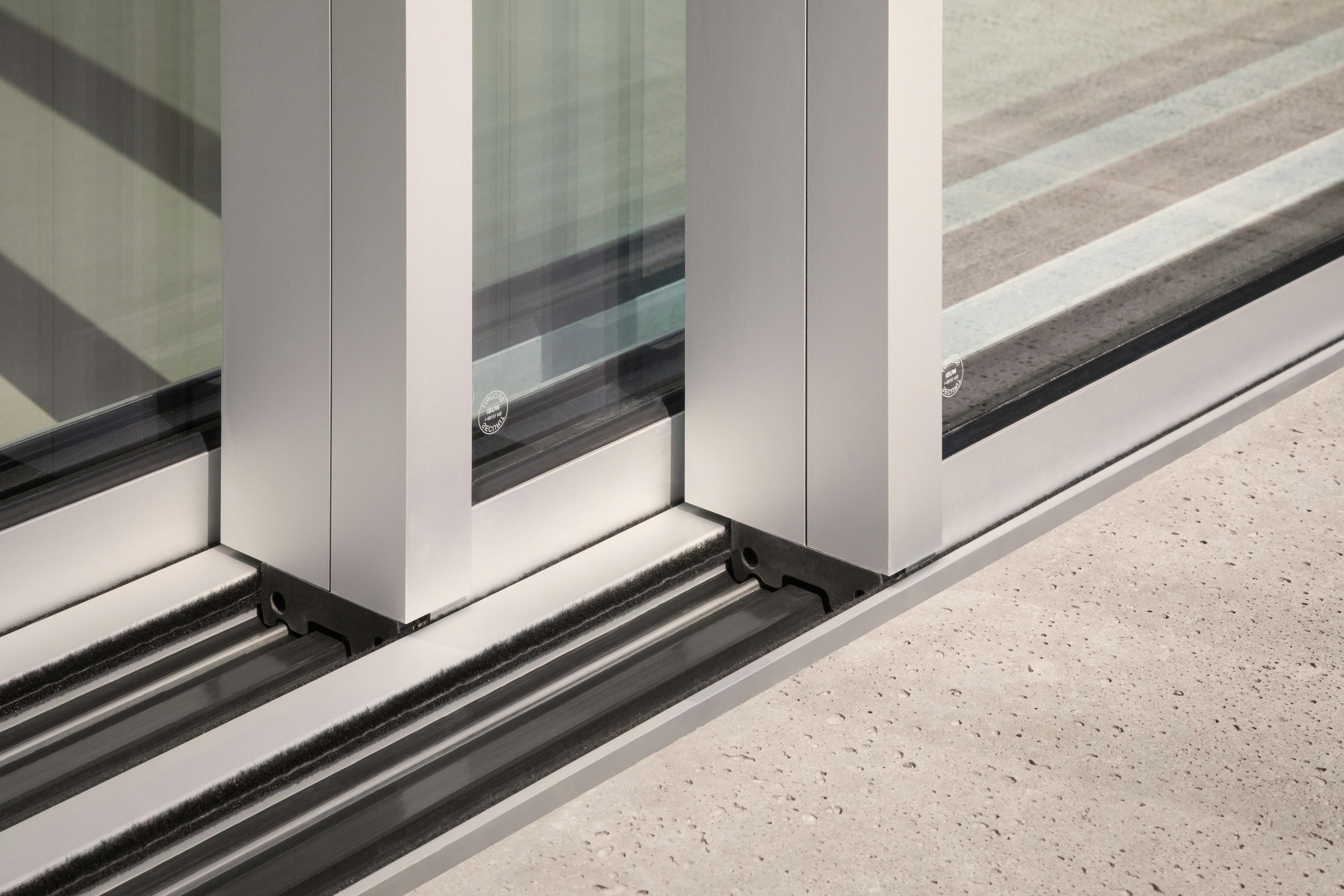 As with all Solarlux products, no stone is left unturned when it comes to the finer points of the Cero. Its minimal design extends to the smallest components, with the door fixings both inside and out covered to make them invisible.
Another neat touch that underlines the attention to both detail and performance is the integrated cleaning brushes to keep the wheels and track running smoothly.
Maximum security
It's understandable for homeowners to worry about security when their home features such as large expanse of glass. But, as you'd expect with a product of this calibre, security has not been overlooked.
From an electric locking mechanism to an optional alarm sensor on the glass, the Cero sliding doors are able to meet strict RC2 (PAS24) or RC3 security standards.
Testing, testing
The Cero sliding door has been phenomenally tested in weather performance to ensure it meets the European standard for wind load and rain resistance, including air permeability and resistance to repetition of movement.
It also adheres to the highest standards in security, sound insulation and thermal transmission.
Versatility of design
The custom-made Cero allows for creativity of design and can fulfil the demand for complex architectural glazing solutions, with a wealth of colour variations, and a range of sizes and combinable elements.
Available in single, double or tripled glazed options (Cero I, II or III), these doors can be opened from the right or left. Various sliding elements that can be combined, with up to five panels sliding on individual tracks for optimum flexibility.
In addition, different components can be combined, with options for glass-to-glass corners with no post to obstruct the view, as well as sliding and fixed elements.
Unbelievable U-values
Solarlux is committed to helping meet the need for sustainable energy. Its architectural glazing solutions not only look stunning but can help increase thermal efficiency and reduce your carbon footprint.
The double-glazed Cero II has outstanding thermal insulation and energy efficiency, while the triple-glazed Cero III has incredible U values and meets Passive House (Passivhaus) standards.
It even has a structurally bonded design that allows air to circulate around the glass and helps improve ventilation and drainage.
Accessibility
The Cero sliding door has a flush floor track, integrated stainless steel rollers and a minimal step to allow for barrier-free access and safety from trip hazards.
There is even the option to fit illuminated floor tracks, making the entry point easy to find and navigate.
Award-winning sliding door
It's not just us who think the Cero sliding door is a cut above the rest: it has also received The German Design Award from the German Design Board and the Iconic Award for the prestigious iF Gold Award. 
We offer the Cero sliding door for homes across Yorkshire, expertly fitted by our in-house team of Solarlux-trained installers. Visit our website for more details and inspiration, or book an appointment to see the Cero II sliding door in action at our Leeds display.