Solarlux systems: Using the very best glass, wood and aluminium
From bi-fold doors to lift-and-slide doors, and Wintergardens to sliding doors, Solarlux systems use the very best glass, wood and aluminium.
The company's commitment to the highest quality materials in all its products ensures an immaculate appearance as well as durability and longevity.
Not only this, but all the glass, wood and aluminium processes and end products also fulfil sustainability standards. Natural resources are treated with the utmost care, and Solarlux applies water-based finishes and energy-saving measures, including the recycling of water and heat, during production.
Here we take a look at the the very best glass, wood and aluminium that is used by Solarlux in its Wintergardens, glass rooms, bi-folding doors and sliding doors.
Glass
Mention Solarlux and glass is the first thing that springs to mind. Glass is a key element in all Solarlux systems, and the company is renowned for creating stunning expanses of glass that allow spaces to be flooded with light and blur the lines between the inside and out.
Glazing options are offered to further enhance the already high quality of Solarlux glass. Toughened safety glass (TSG) is a tempered glass in accordance with the British Standard EN 12150-1 for safety glass. TSG is significantly more resistant to impact than normal flat glass because it has been subjected to a heat treatment process that gives it a high degree of internal tension.
TSG-H is heat-toughened safety glass that has been subjected to a temperature of 290°C in a special heat-soak furnace. This reduces spontaneous glass breakage, and is recommended for demanding structural requirements.
Laminated safety glass (LSG) is a composite of two panes bonded together using a viscoplastic, tear-proof film. Unlike TSG, LSG does not shatter into small crumbs; instead, the broken glass is held together by the PVB or other film so that it can continue to provide protection.
Product suggestion: For the largest expanse of glass, choose the cero sliding door, which offers 98 per cent glass coverage.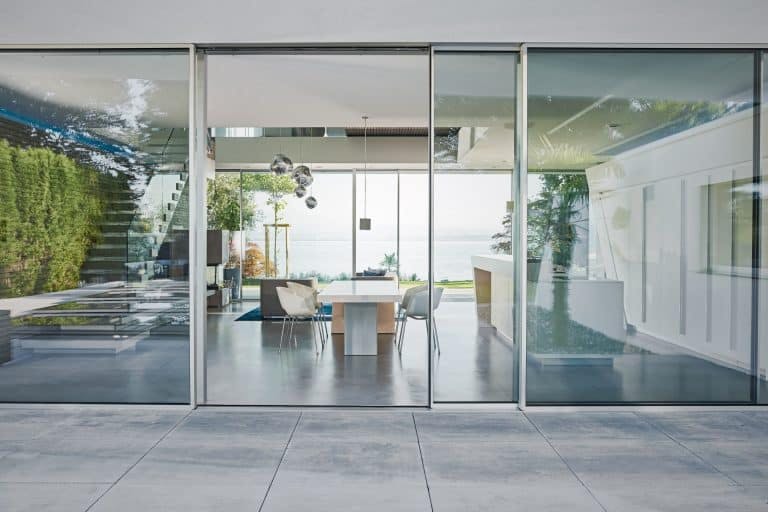 Wood
Wood can work in harmony with every environment and helps a home blend seamlessly into nature. It's a great material for interior frames in particular because it complements the softer, natural and warm aesthetic of a cosy and welcoming room. This versatile material also gives your home a unique look as no two pieces of timber are exactly the same in appearance.
Solarlux has more than 35 years' experience of using wood. All its wooden systems are manufactured at the company's single site in Melle, Germany, where every piece of timber goes through its 5,500m² woodworking plant. Raw timbers are stored at a constant humidity, guaranteeing the perfect conditions for working them.
Wood products are made using a combination of state-of-the-art machinery and the craftsmanship of fully qualified in-house carpenters. The standard woods available are meranti, spruce, pine and Douglas fir, but Solarlux systems can be made in any wood according to your preference.
The wood undergoes a premium coating process to ensure it is as durable as possible and continues to look as good as new. The result is furniture-quality surfaces and a product that is custom-made to each individual requirement. A huge range of high-quality waxed, oiled, varnished, opaque and coloured surface finishes are available, allowing you the creative freedom to express your individual style.
Solarlux adheres to the highest quality standards and uses only sustainably-sourced wood that's FSC® and PEFC-certified.
PEFC certification (Programme for the Endorsement of Forest Certification) demonstrates a commitment to the environment and to the responsible use of wood throughout the whole processing chain, from forest to end product.
The FSC® seal of quality is applied to wood from forests certified by the Forest Stewardship Council as meeting the highest global standards for economic, ecological and social sustainability. It covers the whole process of making a product, from tree planting through to product sale.
Product suggestion: The Solarlux Woodline bi-fold door and the SL178 sliding door are stunning examples of wood systems.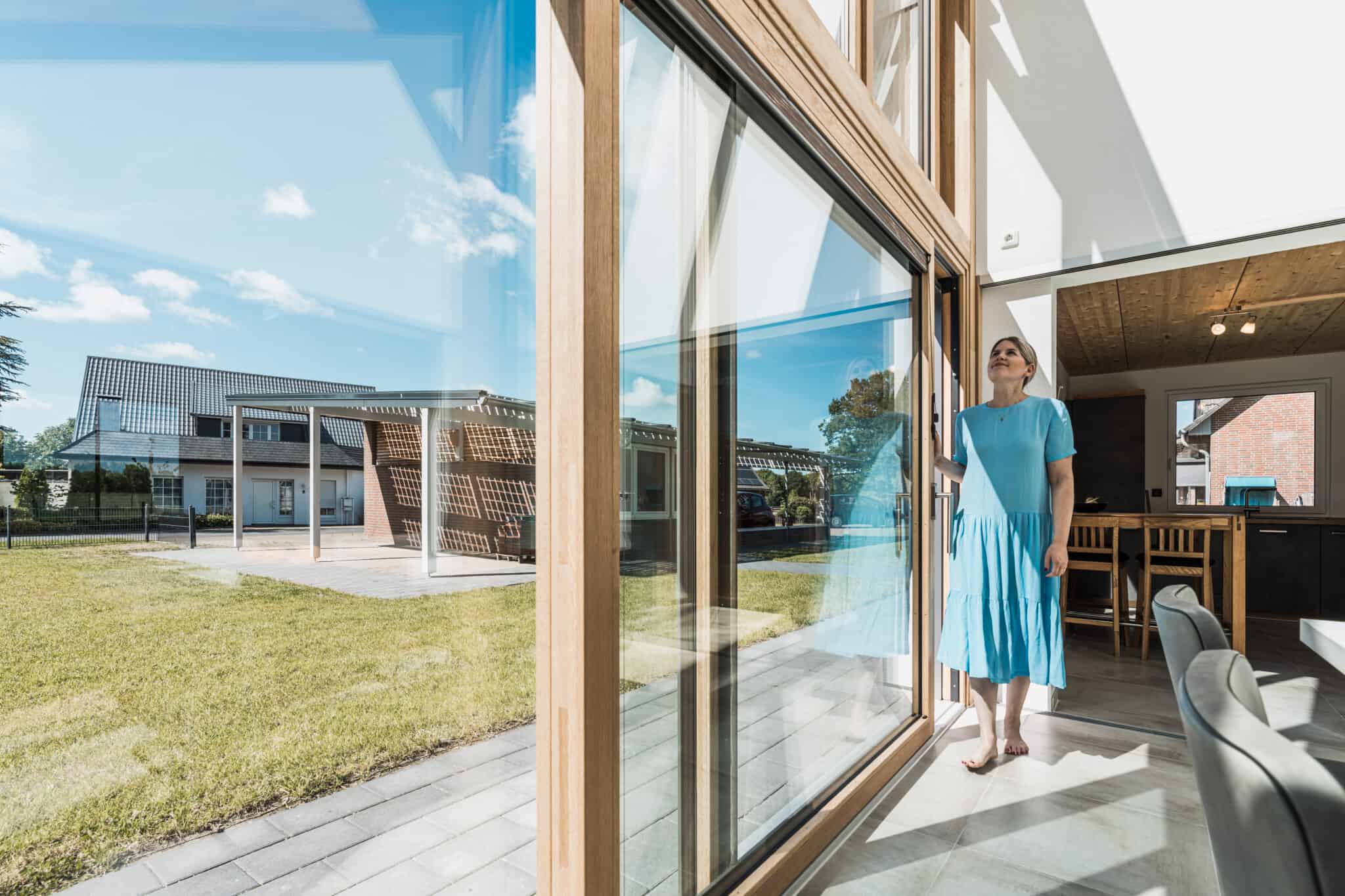 Aluminium
Aluminium is a key material in Solarlux products. Not only does it look striking, but it is perfect for exterior frames because of its durability and low maintenance. Special pre-anodisation coatings can even be applied for particular climate requirements, such as for coastal properties.
In addition, the strength of aluminium means that large panes of glass can be incorporated within slender frames and sightlines. This allows the maximum amount of natural light to flood the space and creates a seamless blend between the inside and outside.
All of Solarlux's aluminium systems are available in any colour and, for a unique twist, can even be given special surface finishes.
In line with Solarlux's approach to sustainability, their aluminium production is carried out in an environmentally conscious manner that saves on resources. It is certified in accordance with the German A.U.F. Recycling Loop, an association of companies that aims to promote the sustainable disposal and treatment of dismantled aluminium so it can be fully recycled.
Solarlux's aluminium production plant is powered using hydro-electric energy, while its in-house powder coating plant recycles the extreme heat generated during the process. This heat is channelled back into the coating system, helping to reduce power consumption, and keeping the large production halls warm.
Product suggestion: The cero sliding door as above or the Highline bi-fold door.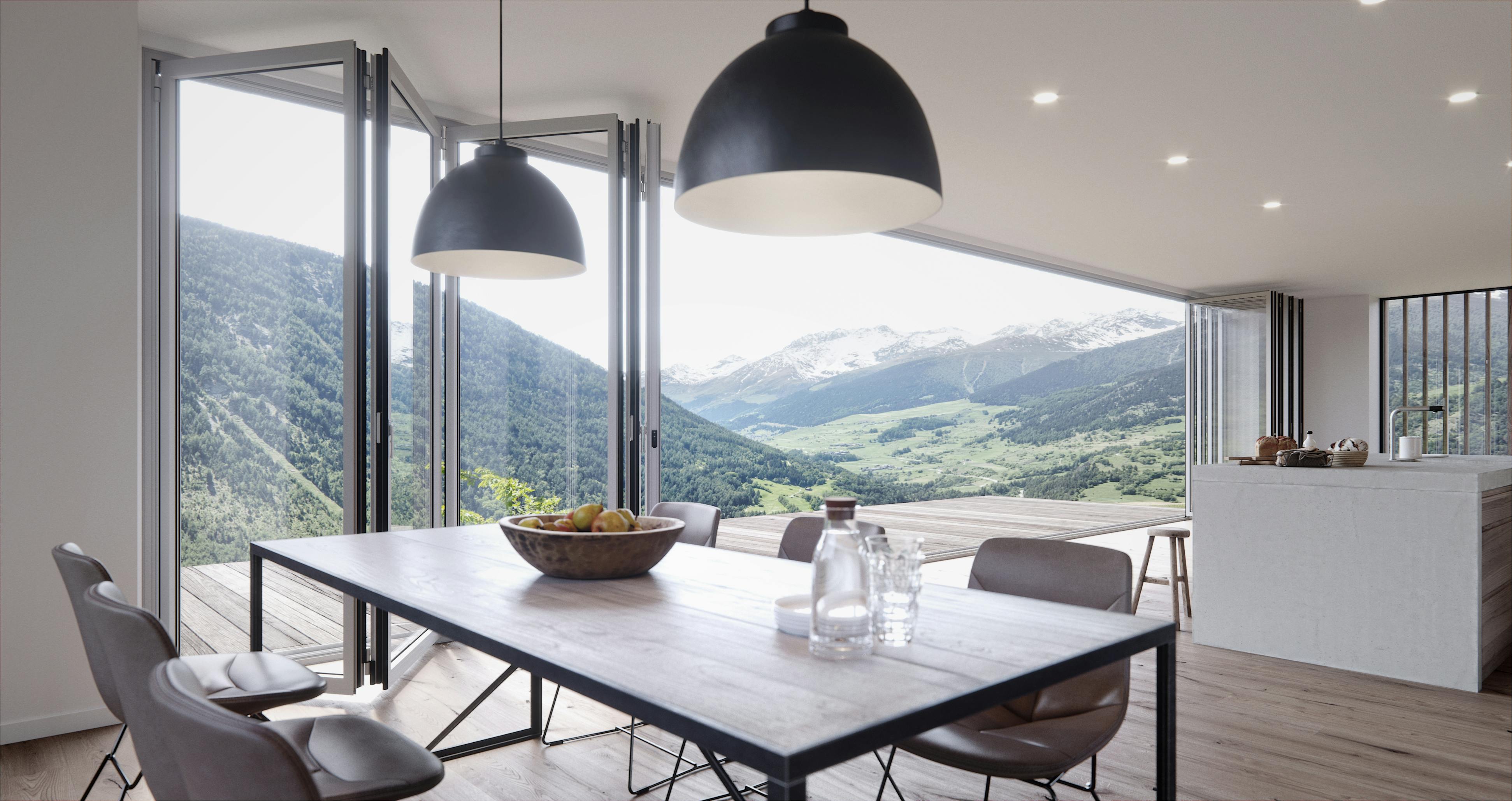 Alu-clad timber (wood/aluminium)
Systems that combine wood and aluminium offer the best of both worlds. They are characterised by two key features: their excellent thermal insulation and their low maintenance requirements.
With the protection of an aluminium cover on the wood, alu-clad timber systems retain the durability and weather-resistance of aluminium on the exterior while lending your interior the cosy atmosphere created by wood.
They also offer a huge amount of creative freedom thanks to the option of using different colours on the inside and outside.
Product suggestion: The Combiline bi-fold door and the SL179 sliding door.