What's the difference between a wintergarden and a glass room?
Here at Solarlux by Reveal, we offer such a wide range of glazed solutions that customers can find it difficult to decide which one would best meet their requirements for the living space they are hoping to create.
One of the questions we are asked most often is about the difference between a wintergarden and a glass room. The product pages on this website make a clear distinction between wintergardens/glass extensions and glass rooms/canopies. This is because they are used in very different ways. In essence, they both provide protection from the weather. But, crucially, a wintergarden is also thermally insulated and therefore acts as a true extension of your home.
Here we take a look in detail at the difference between a wintergarden and a glass room.
WINTERGARDENS / GLASS EXTENSIONS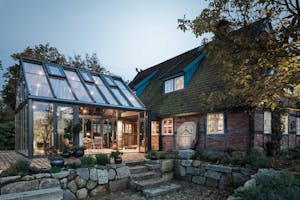 A wintergarden is often known as a glass extension because it is a glazed structure that extends your living space and creates an additional room for your home. Because of its thermal-insulating properties, it is often linked to an existing home by an internal door and can be used all year round, just as any other room in your home would be.
From stylish garden rooms to impressive dining and entertaining spaces, delightful family rooms to calming home offices, a Solarlux wintergarden is a spectacular glass extension that adds light and space to a home.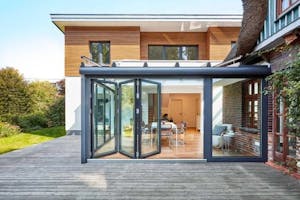 All our wintergardens are custom made to a bespoke design that integrates seamlessly into the architecture of your home, allowing you to create the living space you've always dreamed of.
Accessories include high performance shading, wind and temperature sensors, heating, ventilation, lighting and automation options.
GLASS ROOMS / CANOPIES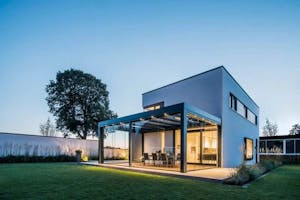 A Solarlux glazed canopy is designed to project out from the exterior wall of a building, and is usually placed overhanging a garden, patio, veranda or balcony to give protection from the rain and sun while you enjoy the space underneath.
The beauty of Solarlux glass canopies is that they can be transformed into glass rooms with the addition of transparent glazed side panels that act as the walls of a room to provide further protection from the elements. These side elements can slide together when weatherproofing is needed or be moved apart to open up the space to the outdoors.
All but one of the glass rooms in our Solarlux range must be attached to a building and have glazed panels on the other three walls. But we also offer the option to create a breathtaking glass cube which is a stand-alone structure that can be placed anywhere within your outdoor space. By combining a canopy with glazed side elements around all four walls, the SDL Acubis not only looks stunningly simple but also offers an unparalleled 360 degree view of the outdoors.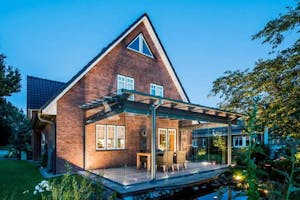 Solarlux glass rooms create a stunning addition to your home's outdoor space. Each one is custom made in Solarlux's manufacturing facility in Germany to your unique choice of style, shape, materials and colour.
Although glass rooms are not thermally insulated, they can create a cosy, weatherproof living space that allows outdoor areas to be enjoyed more extensively. With the addition of a range of accessories, such as solar protective awnings, integrated LED lighting and infrared heaters, glass rooms allow you to enjoy your outdoor space, whatever the weather.
Click to view the Solarlux range of glass extensions/wintergardens here or glass rooms/canopies here or speak to one of our specialist team on 0113 255 5555