Unveiling our Solarlux by Reveal Wintergarden Display
We were delighted to unveil our new Solarlux by Reveal Wintergarden display in Leeds last week.
Architects and builders from across Yorkshire were welcomed to the official opening carried out by Jamie Peacock MBE, former England Rugby League captain and renowned Leeds Rhinos player.
Jamie, who lives in Leeds and is a motivational speaker and business coach, said: "It's a pleasure to open this amazing wintergarden display. It's also great to see everyone and be at my first in-person event since lockdown restrictions eased – especially with the sun shining all day."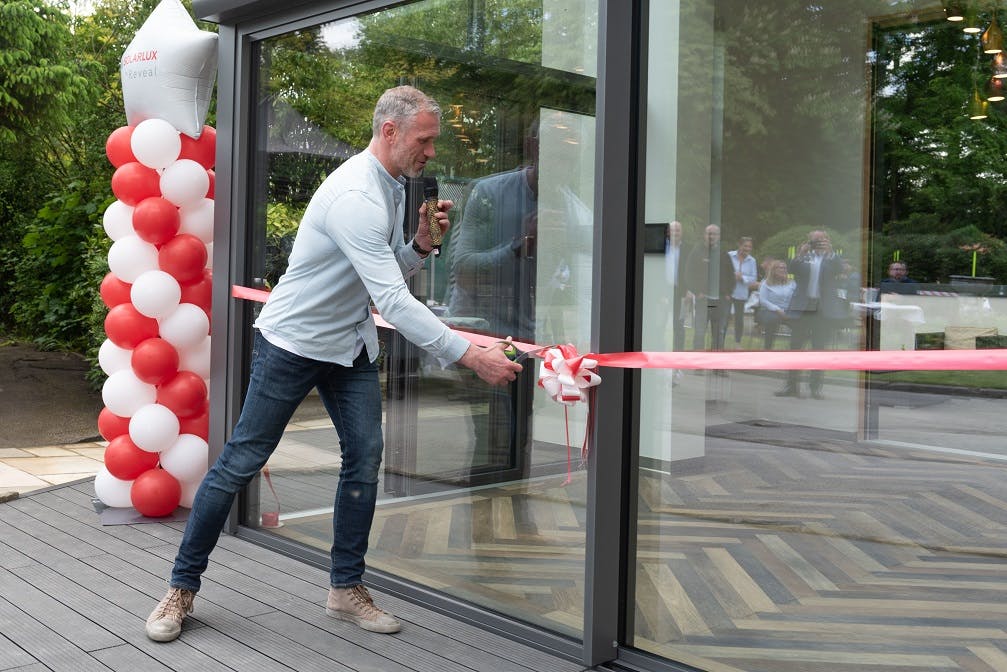 All eyes were on the stunning Wintergarden and the possibilities this thermally-efficient glass extension can offer for creating a truly amazing living space.
With additional options such as awnings and roof sliding windows, the Solarlux by Reveal Wintergarden provides comfort and space all year round. Each one is custom made to bespoke requirements, allowing homeowners to create their ideal living space and demonstrate their unique design.
Our Solarlux by Reveal Wintergarden is the only one on display in Yorkshire, giving builders, architects and homeowners the chance to experience in real life the possibilities that this amazing glass extension offers.
Our display features a pitched roof wintergarden with a Cero 2 pane sliding door, Highline bi-fold door and SL179 lift-and-slide sliding door. Inside is a state-of-the-art WS1000 weather station that controls the temperature, roof vents and awning, and can even project images and play music.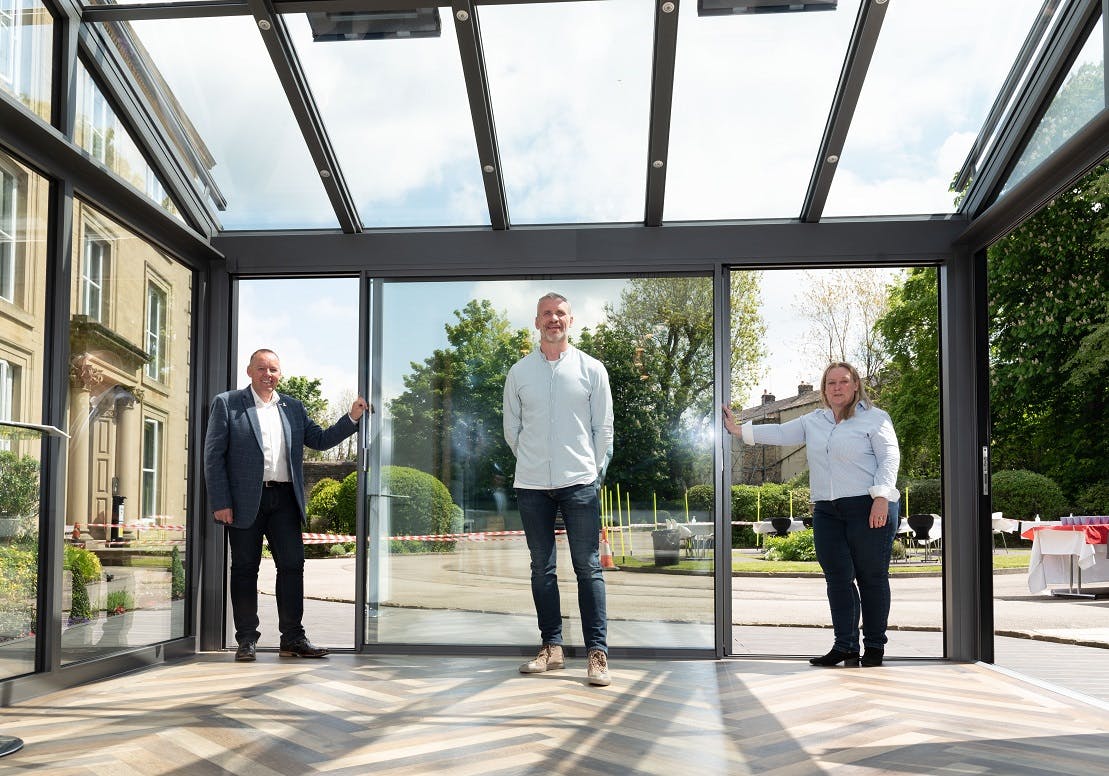 Speaking at the launch, Solarlux by Reveal's director David Weaver said: "We are delighted to unveil our Solarlux Wintergarden display which allows us to showcase the possibilities on offer for creating something really special for your home."
We also welcomed Chris Riddle, regional sales manager for Solarlux UK, to Leeds to see the display.
He said: "The quality, aesthetics and design possibilities offered by Solarlux Wintergardens and all our other Solarlux products can only really be understood by seeing them in the flesh, so we are delighted that our customers across Yorkshire now have the opportunity to do so at Solarlux by Reveal here in Leeds."
David added: "Huge thanks to Jamie for coming to open our display, and also to all the Yorkshire architects and builders who attended on the day. Thank you also to local business Farsley Fire and Smoke for providing delicious gourmet burgers for our guests."
Here at Solarlux by Reveal, our specialist team work with architects, builders and homeowners to help create really special living spaces. Our flagship Wintergarden glass extensions offer a wealth of bespoke design and aesthetic possibilities. Each Wintergarden is custom made at Solarlux's headquarters in Melle, Germany, and installed by our highly-skilled team here in Yorkshire, where we are renowned for our attention to detail, quality of work and customer service.
For more information about Solarlux by Reveal wintergardens, please click here.